New Patients at Vibrant Life Chiropractic
Whether it's your first time seeing a chiropractor or you've been under chiropractic care for years, we want your experience to be as stress-free and comfortable as possible.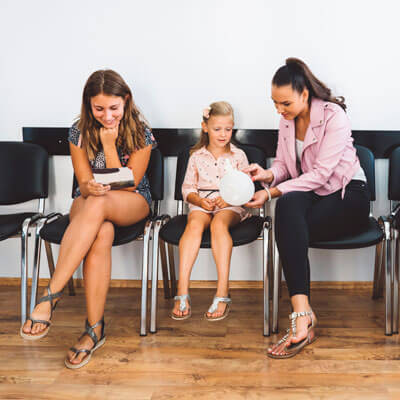 Your First Appointment
When you arrive, we'll have you complete some brief paperwork just prior to being seen. Next, Dr. Nate will sit down to discuss what's going on. If you've never had chiropractic care before, he'll explain everything in an easy-to-understand manner of how distortions can impact your posture, range of motion and overall comfort.
Ultimately, we want to determine what it is that brought you to us and identify any underlying conditions. Your initial visit will be approximately 20 minutes long. In most cases, we provide a same-day chiropractic adjustment. Additional appointments also focus on your specific needs and adjustments, rather than an overwhelming or expensive care plan.
Many of our patients say that their trip to our office is the easiest, least stressful chiropractic visit they've ever had!
If You've Never Been Adjusted
It's completely natural for first-time chiropractic patients to feel a little anxious. If you've never had an adjustment, we'll demonstrate the movements and pressure on your hand or our body, so that you know what you can expect. Chiropractic treatment isn't what you've heard about or seen on videos. Your comfort is integral to a positive, effective experience.
How Often Will I Need to See a Chiropractor?
Everyone is different. The frequency of your visits is up to you. Some of our clients can tell when their body is out of balance and call us as needed. Others prefer to visit us on a weekly basis. Your overall wellness, lifestyle factors and specific needs such as pregnancy make your needs different than others.
Even if you don't require frequent visits, it's best to plan periodic spinal checkups to keep your posture in balance and muscles working optimally.
Paying for Your Visit
To keep things simple, we charge a flat fee for most office visits. Specific treatments such as spinal decompression do come at an additional fee. However, we're competitively priced with other providers in our area and can accept Medicare in certain cases (for qualifying patients).
Our office gladly accepts Visa, Mastercard and Discover. You can also pay with your health savings account/flex spending card.
Patient-Driven, Quality Care
You know your body better than anyone. We're here to listen to your needs. Contact our Redlands chiropractic office today to request an appointment.
CONTACT US

New Patients at Vibrant Life Chiropractic | (909) 798-5433